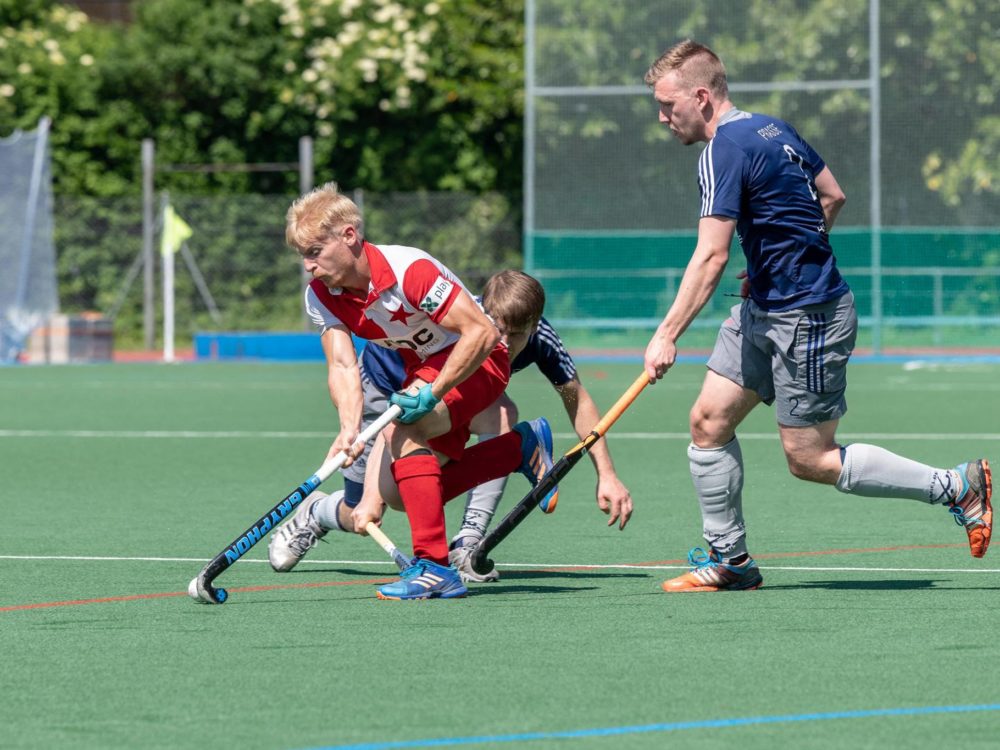 #EHClub2018 – Day 1
The tournament has started! Follow all the action here and on our dedicated Facebook event page. C'est parti! Suivez toute l'action ici ou sur notre page Facebook dédiée.
The EuroHockey Challenge I day 1 started on Friday May 18 with HAHK Mladost (Croatia) against SH Paolo Bonomi (Italy). While the Italian team were more offensive, the Croatian managed defending well and scoring the first goal. It's a win for Croatia 2-1 to start the day!
The second game was a Portuguese face off : AD Lousada vs CFU de Lamas. The conditions were perfect, sunshine and 20 degrees. The CFU Lamas largely dominated the game with a 4-1 victory. The AD Lousada scored in the last minute, but too late to do a come back.
Early afternoon, the Stade de Richemont saw a very good third game: Slagelse Hockeyklub won 3-2 against SK Slavia Praha, after an intense and tight game. Besides high temperature in Switzerland, both teams fought hard until the end of the game. The public was numerous in Geneva, as many schools came with their classes to watch the competition!
To finish the day, the organiser team Servette HC did a great game against czech TJ Plzen Litice. Scoring 4-0, the local team led most of the game. Winners of 2017 EuroHockey Club Challenge II, they showed to their public their motivation to win the title at home!
All teams showed a positive attitude on this first day of the EuroHockey Challenge I, and are highly motivated to do their best in the three upcoming days.
La Coupe d'Europe de hockey sur gazon a été lancée ce vendredi 18 mai au Stade de Richemont à Genève. Temps fort de cette première journée : la victoire de l'équipe locale Servette HC 4-0 face aux tchèques de TJ Plzen Litice. Après quelques minutes seulement, Gaëtan Fabron ouvrait le score sur corner court. Quelques instants plus tard, Arnaud Becuwe allongeait le score à 2-0, suivi de Oscar Lüscher et Nicolas Collart. Une belle entrée en matière pour les organisateurs de ce tournoi, devant un public venu nombreux au stade de Richemont !
Pour commencer la journée, le premier match à 10h a vu la victoire des Croates HAHK Mladost, face au SH Paolo Bonomi. Les Italiens étaient plus offensifs, mais les Croates ont su concrétiser leurs occasions pour marquer deux buts (2-1 score final).
Le match suivant était 100% portugais : AD Lousada vs CFU de Lamas. Les conditions étaient parfaites, grand soleil et 20 degrés. Le CFU Lamas a dominé largement le match, AD Lousada réussit tout de même à marquer dans les dernières minutes. Score final de 4-1.
Le troisième match du jour était serré : les Danois de Slagelse ont gagné 3-2 face à une des deux équipes tchèques, Slavia Praha. Un très beau jeu devant des écoliers venus nombreux assister à cette Coupe d'Europe !
Les festivités continuent demain, dès 10h avec HAHK Mladost face à CFU de Lamas. L'entrée est gratuite, venez nombreux soutenir les équipes, et bien sûr les Servettiens à 16:45 !
Results / Résultats : https://eurohockey.altiusrt.com/competitions/97
Photos
Stay tuned
> The event on Facebook
> Servette HC Instagram page