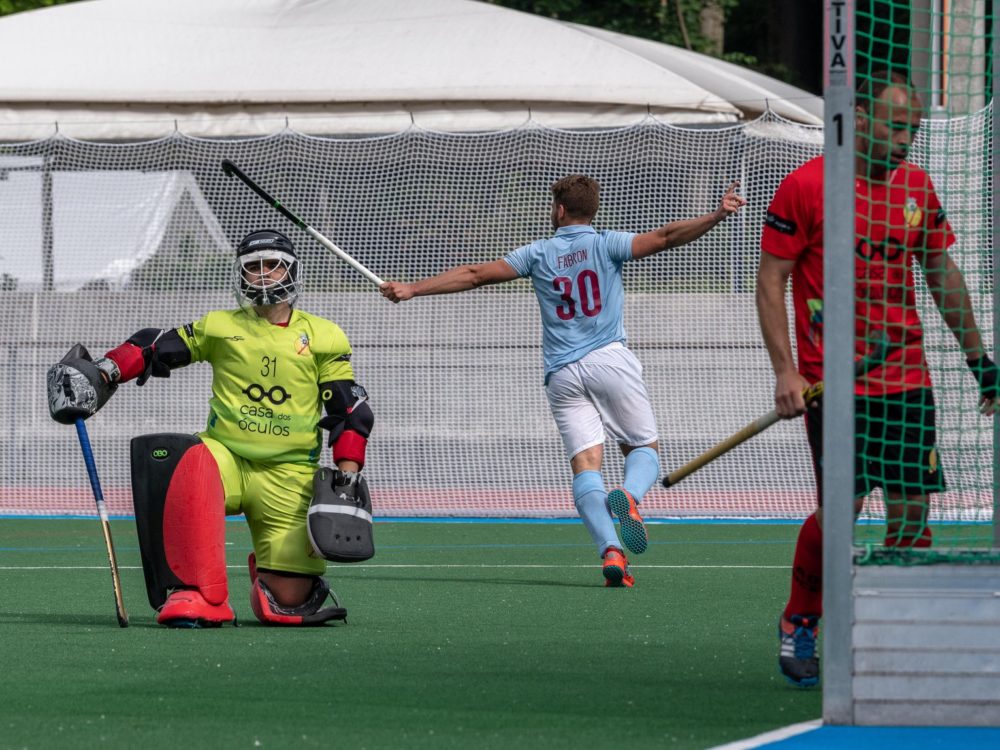 #EHClub2018 – Final Day
Congrats to CFU de Lamas and SK Slavia Prague for the victory! La victoire revient à CFU de Lamas et le SK Slavia Prague, bravo!
The last day of this EuroHockey Challenge started well on this early Monday Morning. Servette HC won the first game opposing them to AD Lousada. Both teams were under pressure to stay in the EuroHockey Challenge I division. The local team already lead 2-0 at halftime and finished on a 3-1 under the public's cheerings.
For the second game, ASD SH Paolo Bonomi and TJ Plzen Litice were also fighting to maintain themselves in their division. From the beginning, we saw a strong Italian domination. They showed their motivation by scoring twice during first half. The Czech did their best to fight back but unfortunately for them ASD SH Paolo Bonomi scored a last goal and won 3-0.
This afternoon we assisted to a very tight game between Slagelse Hockeyklub and Clube de Futebol Uniao de Lamas. Both teams were fighting for a position in the higher division and showing a lot motivation but they were having trouble achieving their attempts. The score was 1-1 at halftime. During the very tense second half, CFU Lamas scored the last goal that offered them access to the higher division.
The last exciting game of the day opposed HAHK Mladost to SK Slavia Prague. The Czech team rapidly scored two goals in the first 30 minutes. They score a third goal during the second half, but the end of the game was very tight and the final score stayed 3-0 for SK Slavia Prague.
La dernière journée de l'EuroHockey Challenge I s'est encore tenue dans des conditions idéales : comme pour les trois premières, le soleil, la chaleur est les fans étaient au rendez-vous au Stade de Richemont.
Les Servettiens n'ayant pas réussi à accéder aux matches pour la promotion ont donc ouvert les festivités avec le premier match à 8h30 ce lundi de Pentecôte. En forme devant leur public, ils ont ouvert le score et menaient 2-0 à la mi-temps face au AD Lousada. Ils terminent victorieux à 3-1, reléguant ainsi les Portugais en Challenge II.
La deuxième rencontre pour la relegation opposait le ASD SH Paolo Bonomi et TJ Plzen Litice. Les Italiens ont dominé la rencontre dès le début, et marquent deux buts dans la première moitié du match. Ils terminent finalement 3-0 malgré des Tchèques qui se sont bien battus.
L'après-midi, les matches finaux étaient intenses ! Le premier a vu la victoire du Clube de Futebol Uniao de Lamas face au Slagelse Hockeyklub. 1-1 à la mi-temps, les Portugais ont finalement marqué un deuxième but et montent ainsi dans la division supérieure !
Le deuxième match décisif pour la promotion a vu la victoire du SK Slavia Prague face au HAHK Mladost, 3-0. Les Tchèques ont vite marqué deux buts, et en ont remis un dans la troisième période. Un match très serré pour clore quatre magnifiques journées à Genève !
Results / Résultats : https://eurohockey.altiusrt.com/competitions/97
Photos
Stay tuned
> The event on Facebook
> Servette HC Instagram page