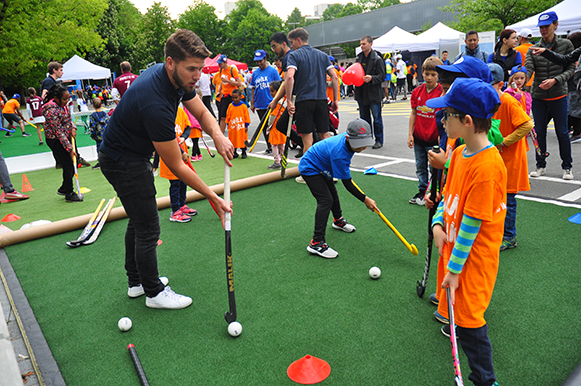 FIH celebrates Walk the Talk with World Health Organization in Geneva
Servette HC participated for the second time to the major health promotion event "Walk the Talk" in Geneva.
FIH joined the celebrations for a healthy and sustainable future in the second edition of the "Walk the Talk" event organized by the World Health Organization on 19 May 2019 in Geneva, Switzerland.
The event witnessed thousands of people from various nationalities of all ages and abilities sign-up for a free walk/run event that ranged from three to eight kilometres. It also engaged World Health Assembly delegates along with various United Nations officials, who are on their visit to Geneva for the World Health Assembly.
Like in 2018, FIH along with the Hockey Club Servette Geneva and the association Generation Games organized a hockey initiation programme for the public to demonstrate the uniqueness of the sport.
> Read complete article on the FIH website
---
Promotion du hockey à Genève
Plusieurs membres du Servette HC s'étaient mobilisés pour cette journée de promotion du hockey sur gazon. Ils ont permis à de nombreux parents et enfants de découvrir notre fantastique sport. Merci à eux pour leur engagement!